PURCHASING CONTRACTS & CMAS CONTRACTOR
At All County Flooring, we understand that making decisions about your commercial flooring can be difficult. That's why we're proud to offer our clients a variety of purchasing contracts to make their decision-making process easier. Our purchasing contracts are designed to provide our clients with best value, quality and life cycle of installation, as well as a simplified purchasing process. With these contracts, our clients can access a wide variety of commercial flooring materials and styles that are not typically available to the public. We are committed to providing our clients with the most comprehensive and cost-effective commercial flooring solutions, and our purchasing contracts are just one way we strive to meet that goal. Contact us today to learn more about our purchasing contracts.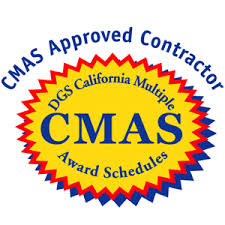 California Multiple Award Schedules
The California Multiple Award Schedules Program (CMAS) is a great way for agencies to save time and money when procuring commodities, non-IT services, and information technology products and services. It eliminates the need for costly, time-consuming bid processes by creating a pool of pre-qualified suppliers from which agencies can solicit offers. Furthermore, agencies can be sure that they are getting the best value for their money, as all prices have been assessed to be fair, reasonable, and competitive.
Using CMAS is easy and efficient. Agencies simply solicit offers from the pre-qualified suppliers, select the most advantageous one, and enter into a contract without needing to complete the entire bid process. CMAS also provides an added layer of security, as it ensures that all suppliers are credible and capable of completing the project to the best of their ability.
The CMAS Program is a great way for agencies to quickly and easily procure the goods and services they need. By utilizing CMAS, agencies can save time and money, while also ensuring that they are getting quality products and services at competitive prices. ​​For more about CMAS, please visit www.dgs.ca.gov.
All County Flooring is associated with Floorcovering & Installation Services for Tarkett USA INC.
CMAS Purchasing Contract No.: 4-20-00-0113B
Term of CMAS: 2/12/20 through 10/11/23
Contact Person / Phone: Carl Hancock / ℡ (707) 205-4229
Description Identifying CMAS Products and/or Services:
Non Information Technology Commodities

Sourcewell (formerly NJPA)
All County Flooring is an authorized service provider of Tarkett Flooring, contract #022712-TFU. Our customers can purchase these flooring products through Sourcewell (formerly NJPA), which offers nationally leveraged and competitively solicited purchasing contracts. As a result, our customers can purchase flooring materials through our contracts without needing to go through their own competitive bidding process and requirements. This streamlined process helps to save you time and money, as you can take advantage of our high-quality selection of nationally leveraged, competitively bid contract solutions. Sourcewell is committed to helping members meet their ever-challenging needs in an efficient and cost-effective manner. For more about Sourcewell, please visit www.sourcewell-mn.gov.
At All County Flooring, we are proud of our partnerships with flooring manufacturers throughout the industry. This makes it possible for All County Flooring to offer best of class sales & installation services. We understand that when customers utilize our company services on the first project or the 100th or more, we know that each project is an interview for consideration for any future flooring projects. Our target and goal, is customer satisfaction and to earn the right to work with your organization on every project.